Erected during the Moorish occupation of Spain on the Sabika hill, in Granada, Alhambra (alqala hamra, Red Castle - in Arabic) is a one of the major representative of the delicacy of the Arabic architecture and its ancient culture.
Originally born with defensive purpose, Alhambra was at the same time, the alcazaba (fortress), the Alcázar (castle) and a small medina (city).
Only the mention of her name evokes, for many, beyond the remembrance of a historical past, full of life, the enchantment that the oriental legends always provided to those who surrendered to them.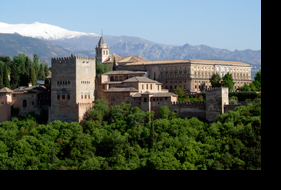 As the Arab poet Ibn Zamrak said (century XIV):
"Pause on the esplanade of Sabika and gaze upon your surroundings. The city is a lady whose husband is the hill. She is clasped by the belt of the river, And the flowers smile... Sabika is a crown upon the brow of Granada In which the stars yearn to be stunned. And the Alhambra - God watch over it! - It is a ruby at the crest of that crown. "
This high mountain is an invitation to contemplation of its landscapes which are unique, with its light, sounds and harmony.
Alhambra offers a warm welcome, and a deep connection with the universe of beauty, a sensually hidden beauty, that needs to be sought by its visitors.
This environment, consisting of palaces and gardens, not unintentionally, suggests moments of introspection.
Inspired by this magical vibration appears in Brazil, Alhambra Project with the aim of creating a harmonious environment that provides more refined frequency refined, thus contributing to human development and the quest of self-knowledge.
Soon new information.